Ethiopia, Bishaan Coffee Beans
Deets
Country

Abana Estate / Limu, Ethiopia

Elevation

2100m

Processing Method

48hr Cherry Rest / Fermentation / Washed

Variety

Heirloom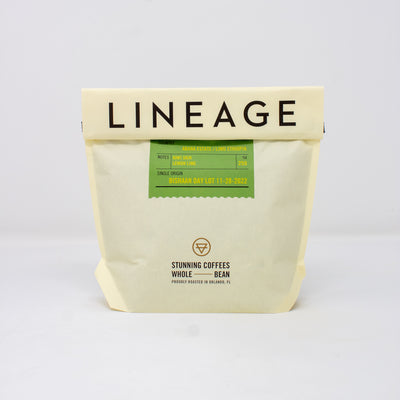 Description
Ethiopia, Bishaan (Dammu was the name last year) - This is the most anticipated coffee of the year for us, mainly because there is such a cool story behind it. This is the day-lot that we personally helped with when we visited Abana Estate back in the end of November 2022. We bought this coffee, Dammu, from them last year and it was one of our favorite coffees of the year. While at their farm, we talked with Bekkel, the farm manager, and suggested that they add in a water fermentation process to this coffee. We thought it might make this coffee cleaner and add acidity. We told them that if they did this we would buy the whole day-lot no matter how it tasted. They were all excited about this and even gave us the opportunity to name this coffee. So we came up with the name, Bishaan. Bishaan means water in Oromo, which is one of the more popular languages in the Limu area of Ethiopia.
A day lot is simply all the coffee cherries harvested from one particular day and keeped together throughout the entire processing. Once harvested the coffee cherries are float tested to filter through any under ripe cherries that are not dense enough to sink to the bottom. This day-lot was then rested in their coffee cherries on a raised bed, wrapped in a tarp for 24 hours. After that, they get depulped and placed under water to ferment for another 24 hours. This will help break down the mucilage surrounding the bean. Once fermentation is complete, this coffee goes through a washing process, then dried on raised beds before getting bagged and sent to the dry mill. 
The unique thing about the coffee we get from Abana Estate is that they grow and process their coffee right there on their farm. This is fairly rare in Ethiopia, where you usually have co-ops or communities growing coffee and selling the coffee cherries to the local wet mill. This estate allows us to identify each coffee more directly to where we can locate exactly where the coffee was from. When we were there back in November 2022, we were able to walk around the dense clay soil and see the exact coffee we ended up purchasing being harvested. 
We love this coffee and are honored to be apart in the process of making this coffee. We hope you enjoy it!
More Coffee